Attention Bigfoot Enthusiasts! Bigfoot Rendezvous 22 Begins September 23!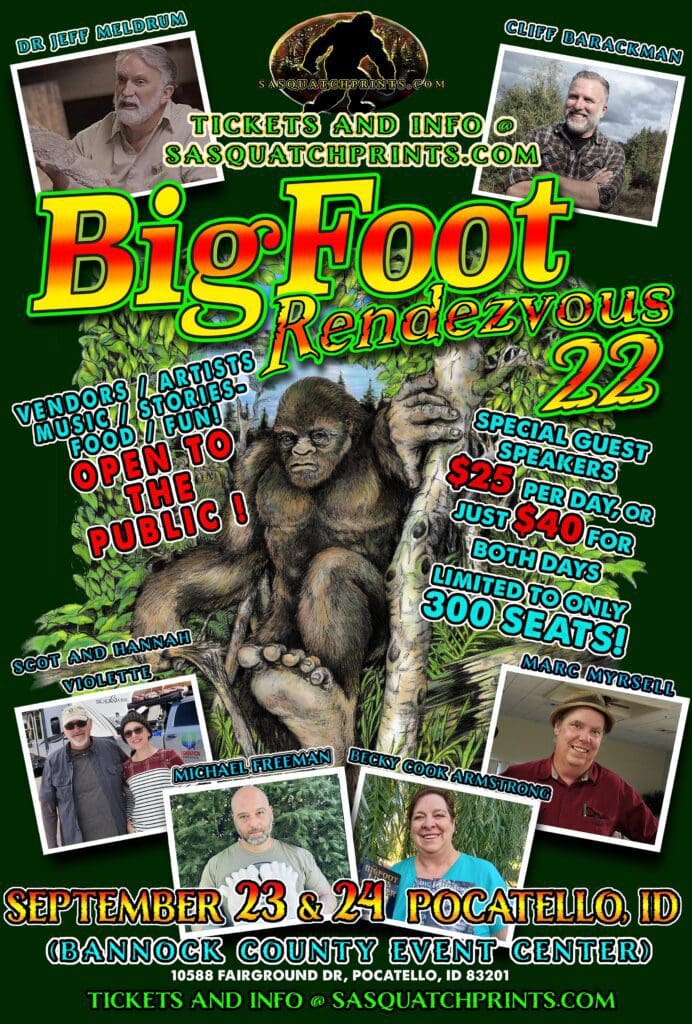 Speaker information
Special Guest Speakers:
Cliff Barackman,
Researcher / Curator of the North American Bigfoot Center in Boring Oregon
Dr. Jeff Meldrum
Professor physical Anthropology at Idaho State University
widely regarded as the formost
expert on the subject in the United states
Michael Freeman
son of the late research pioneer Paul Freeman and is an expert on his fathers evidence and legacy. He has studied the Blue Mountain evidence extensively and is the author of the upcoming book The Freeman Bigfoot Files.
Marc Myrsell
While the re-discovery of the 1924 Ape Canyon Cabin is his claim to fame and infinite riches, he continues to venture in to the mildew and dust of shadowy paper archives in search of long forgotten stories; taking this evidence in to the field to look for physical evidence of historical monster attacks.
Also joining are...
Scot and Hannah Violette
- hosts of the Mighty Podcast Squatch America!
https://squatchamerica.com
Becky Cook!
Local Researcher and Author of the Book series; Bigfoot Lives in Idaho
FILL OUT THIS FORM TO BE A VENDOR FOR BIGFOOT RENDEZVOUS!
SASQUATCHPRINTS.COM has been creating high quality,
highly detailed Bigfoot and cryptozoology inspired t-shirt designs since 2002.
Original illustrations by Brandon Tennant and friends!
Looking to get your own designs for your own business, school, team, event, reunion, or if you want to get your own artwork and your own message out to the world?
Click on the logo below.